Why Metal Hose Online's Cam and Groove Couplings?
We know you need more than just a quality hose assembly, so we stock and supply the hose accessories you need most. Metal Hose Online offers a full coupling solution, developed to facilitate the use of crimped sleeves on industrial hoses. Insta-Lock™ from ContiTech Coupling Hose systems are available in Aluminum, 316 SS and Brass — as well as, Dixon Vent-Lock, Boss LPS and many other premiere manufacturers. Part A, B, C, D, E, F, Dust Plug, Dust Cap, and Jump Sizes are available to meet your application needs.
MHO supplies you with the top name brands. From PT Coupling to Dixon, we have you covered.
Our PT Couplings have locking cam arms and groove features
Super pressure ratings that surpass industry standards
Castings are made from high-quality raw materials
Materials Available for Cam & Groove Couplings
Metal Hose Online uses an extensive array of materials for cam and groove couplings, with selection depending on the intended application. Standard materials include Aluminum, Hard Coat Aluminum, Brass, Stainless Steel, Ductile Iron, Carbon Steel, Polypropylene, Food Grade Polypropylene and Nylon.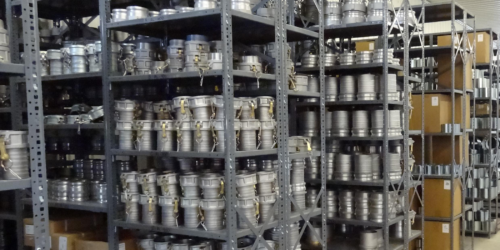 Industrial
Steel foundries
Mines
Construction
Chemical
Petroleum
Sanitary
Government
Nuclear
Aviation
Marine
Rail
Storage
Dry bulk
Wine
Food
Drugs
Reverse osmosis systems
Water treatment
Water transport
Irrigation
Waste/vacuum trucks
Fuel delivery
Grain movement
Hydraulic oil, coolants, gasoline, and petroleum products
Bio-fuel
Salt water
Waste water
Chemical movement & storage
Sand
Grout
Cement
Varnish
Flour
Pellets